Urby, Stamford, CT
Urby Stamford is a new condominium development in downtown Stamford, Connecticut. The project focuses on the millennial market, targeting renters interested in unique spaces, green areas and a wide variety of amenities. Working with our partner, MKW Landscape Architects, Naturcycle created a soil blend designed for stability and water holding capacity, weighing 75 pounds per cubic foot when saturated (based on ASTM E2399). Over 2,000 yards of this green roof media, Naturcycle Intensive 75, was applied on site to create a mixed landscape of trees, shrubs, lawns, perennial plantings and much more.
Yale University, New Haven, CT
This project was a unique application of green roof media and an American Hydrotech system on the Yale University campus. As part of the 320 York Humanities renovation, new subterranean areas were built in the existing courtyard. Green roof media developed by Naturcycle was applied on top of the new underground structure to return the site to the original at-grade conditions. The use of over 1,200 yards of this specially engineered media allows for these types of creative applications, as less intensive infrastructure is needed in order to support the specially designed lightweight material. The site will be planted and finished in early 2020.
Ocean Drive, Coney Island, Brooklyn, NY
As part of the redevelopment of Coney Island, Ocean Drive will improve the waterfront with a modern amenity terrace, a variety of apartment sizes, and hotel-like services. Applied Mulch of Upstate New York used Express Blower trucks to install hundreds of yards of Naturcycle Intensive 65 green roof media, a lightweight blend custom engineered by Naturcycle specifically for this landmark project for both an extensive roof above the new retail space and a 25,000 square foot park-like setting two stories above the historic boardwalk.
Statue of Liberty Museum – New York, NY
This intensive green roof is part of the New Statue of Liberty Museum on Liberty Island. It will house the original torch and compliments the forms on the island of the Fort and Statue itself. Its stunning vegetated roof will allow expansive views and is a LEED Gold Structure.
Designed by FX Collaborative and QRP Partners. Installed by Wetlands Inc and American Hydrotech.
Naturcycle provided the green roof media, drainage media and the complex logistics needed to get the materials to the island. This project in Super Sacks (Large Crane Bags) required a variety of delivery and timing planning and the highest quality green roof media to ensure success.
A Detailed Greenroofs.com Article on the Museum
Rockefeller University – Manhattan, NY
This massive Intensive Green Roof is an extension of the Rockefeller University Campus over the FDR Highway on the East Side of Manhattan. Steven Dubner Landscape and American Hydrotech produced and amazing result for the campus. Expanding it over the highway and providing new green space in a densely populated area.
This multi-thousand yard Intensive roof is part of their River Campus, an amazing addition to a first class research university. This project required a variety of bulk and super sacks and took over two years to complete. This very large green roof media order required consistent and 100% weed seed free media to achieve its complex goals. Naturcycle was proud to be a part of this unique project.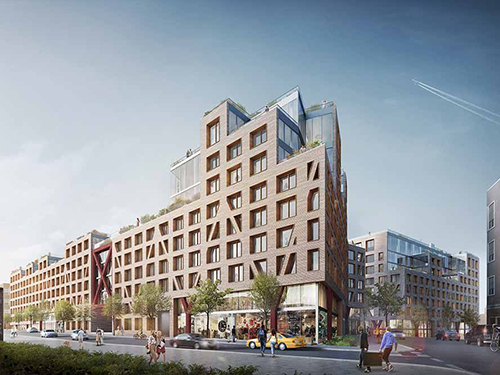 54 Knoll – Brooklyn, NY
This ongoing project is one of the largest green roof and planter combinations in the dramatic redevelopment of Brooklyn.  Installed by Elevations Landscape + Design Build this very specialized intensive green roof required a highly specialized media. Naturcycle tailored our successful green roof media to meet the project specification's and provide a local, New York State manufactured, alternative. This project required bulk and super sack options for delivery of media and supports a wide variety of plant life to be used in green roof planters, roof areas and more on top of and around the building.
Resorts World Casino – Monticello, NY
This project at a brand new construction site in the Catskill Mountains of New York State required a detailed review of existing specifications. Naturcycle worked with a local contractor and the engineers to offer a local, New York State made, USCC STA Compost based semi-intensive green roof media for planters to be used around an elevated terrace and pool area.
Providing excellent service, and more sustainable materials made locally, Naturcycle was able to provide super sacks of a specially designed media for this project. Offering a better, greener solution. Resorts World Casino is amazing facility and a great addition to the area.
Watermark East – Cambridge MA
This interesting project was a repair and upgrade completed by Recover Green Roofs outside Boston in Cambridge, Massachusetts. Naturcycle teamed with Recover and the client to provide extensive green roof media and intensive media blends for sedum based areas, planters and large roof areas. This project was then blown in place using blower truck technology to quickly and efficiently place material. Watermark has an elevated terrace for the residents and it needed a refreshing only our team could provide.
Naturcycle is an expert and experienced provider of Green Roof Media, designed, tested and proven to work every time for blower truck installers. We understand their needs, we know what needs to be done to achieve success geared towards blown in installations and our staff closely monitors materials for that success. Blower truck installers should ask for Naturcycle Green Roof Media!
Edible Academy – Bronx, NY
The New York Botanical Gardens hosts an Edible Academy. Its newly expanded campus hosts a unique sloped green roof. One of our Green Roof System partners at American Hydrotech created solutions for steep sloped green roofs. This extensive design supports a beautiful sedum mat and was provided in Super Sacks for ease of installation. Completed in spring 2018 this site is open to the public and part of the New York Botanical Gardens. Visit it today!
SUNY Plattsburgh, Plattsburgh, NY
The renovation and upgrades to a key elevated walk way connecting buildings on the SUNY Plattsburgh campus was an innovative use of Naturcycle Extensive Green Roof Media. Naturcycle also provided washed round stone in Super Sacks for border areas and edging. We pride ourselves providing all the key soilless media and other associated products for green roofs such as drainage aggregates, border materials and other soil related products. These products are sold in bulk, super sacks or even small bags palletized for projects large and small.
Private Plaza – Manhattan, NY
Naturcycle often sees Intensive Green Roof media used as a good option for planters around New York City. Green Roof media provides consistent, long term success for planters. The material is weed seed free by design, excellent drainage and the right balance of nutrients and physical properties for success.   Our work with a blower truck installer on this project was important.
Naturcycle provided very dry, well blended, Intensive Green Roof Media with a slightly more soil like blend for planter success. The FLL Guidelines drive all Naturcycle media designs and this intensive, although more dense and sandier, still fell within those guidelines, but was made to best fit the project. Learn more about Green Roof Media here.
UConn Building – Hartford, CT
Naturcycle and its green roof system partner American Hydrotech provided Intensive Green Roof media for a plaza and plantings at a newly renovated campus in downtown Hartford. This design leverages the storm-water benefits of Green Roof Media and shows the combination of planters and flat areas that manage storm-water and beautify.
Naturcycle often does work around Connecticut. Our bulk yard's location near the New York State and Connecticut border allows us excellent access to the State. We have shipped to dozens of green roofs and at grade soil projects around the state. Naturcycle is an excellent choice for Green Roof Media projects in Connecticut.
Assembly Row – Sommerville MA
This extremely large Green Roof project in Somerville, Massachusetts was an interesting challenge. A local green roof installer needed dry, quality material, quickly after challenges developed. Naturcycle rapidly provided hundreds of yards of Naturcycle Green Roof Media, an Intensive blend, delivered to the jobsite directly. We arranged all the trucking, followed up with dispatching and delivered dozens of large loads in days
Naturcycle mobilized to meet its customer's needs and solved a major issue for the client. Our Green Roof Media is second to none and our expert logistics make jobs less painful. The Avalon at Assembly row contains many Green Roof planters and other features using Naturcycle Green Roof Media.