Green Roof Media is a critical element to the success of high-end landscape design involving work on structures. These highly engineered, narrowly designed materials are manufactured products containing very little silt and clay. As a result, these media are not considered soils.
Naturcycle specializes in using local, sustainable materials in the New York and New England markets when producing green roof media:
Premium Seal of Testing (STA) Certified Compost sourced from locations in New York and New Jersey
Washed sand products sourced from locations throughout the Hudson Valley
Expanded shale components manufactured locally in the Albany, NY area
Naturcycle does not use native soils or other materials that could introduce weed seeds in its blends. All green roof media components are based around inert minerals, living, diverse compost and standardized, in order to create a consistent, high-quality product.
Naturcycle also focuses on regular testing and strict quality control. We often utilize Turf & Soil Diagnostics (http://www.turfdiag.com/), a testing laboratory in New York State, to verify important factors in green roof media, such as the Maximum Saturated Density of the materials.
Naturcycle offers green roof products in bulk, 1½ cubic yard super sacks, as well as pallets of smaller bags. We offer a wide variety of delivery options and critical expertise in supplying blowable materials that specialized trucks can use to directly install material on roofscapes.
Naturcycle is also able to customize blends for special needs, such as utilizing food scrap compost from a University for green roof applications on campus or modifying an intensive blend for native grasses that require a narrow pH range for optimal growth. Naturcycle is glad to review and match specifications or offer an equivalent alternative matching any competitors specifcaion.
Disclaimer –
Please contact a Naturcycle representative before specifying the materials below. Green roof media is a complex material. We have the expertise to verify that the right material is being used for the right application. Although most designs follow the German FLL standards as a common basis of design, some minor modifications are often required to better reflect local conditions or materials available in the Northeast.
Naturcycle Intensive Green Roof Media
Intensive green roof media is designed for application in depths of greater than six inches. This media supports a wide variety of plants, including shrubs and trees. It is higher density sandy material and drains slowler. Intensive green roof media is manufactured in the following weight classes:
Naturcycle Intensive 95 (90-95lbs max saturated weight, ASTM E2399)
Naturcycle Intensive 85 (80-85lbs max saturated weight, ASTM E2399)
Naturcycle Intensive 75 (70-75lbs max saturated weight, ASTM E2399)
Naturcycle Extensive Green Roof Media
Extensive green roof media is designed for application in depths of less than six inches. This media supports low-growing sedum or grasses that can handle a rockier media with lower nutrient content. Extensive blends have a high aggregate content and should therefore be closely matched to appropriate plant types. Naturcycle offers a modified blend specifically for grasses native to the Northeastern United States. Extensive green roof media is manufactured in the following weight classes:
Naturcycle Extensive 85 (70-80lbs max saturated weight, ASTM E2399)
Naturcycle Drainage Blend
This drainage blend is designed for moisture management in a planting system and is intended to be used as the lowermost layer of a green roof application or in an enclosed planter. The expanded aggregate used in this blend is lightweight and has notable water-holding capacity. Naturcycle can supply this blend in bulk for pickup or delivery, in 1½ yard super sacks, or in smaller bags.
Naturcycle Lightweight (LW) Planting Media
Compatible with Blower Truck Installation
This lightweight planting media is a unique mineral-based engineered soil. It is produced with expanded aggregate, screened natural sand and premium, locally produced, STA "Certified Compost." While it does not meet the narrow and specific parameters of the FLL guidelines, this lightweight material is a better fit for use in planters, at-grade courtyards or on concrete structures. This blend is specially designed to be applied by professional installers with blower trucks (see picture). In many cases, the material never comes in contact with the ground when delivered to the site.
Unlike a traditional potting mix, this lightweight media has less than 10% organic matter (by mass), so it will not shrink, plug up, or break down over time. It is similar to a natural sandy loam, but is produced for ease of installation, consistent results, and a standardized weight that it will not exceed when saturated. It has been used successfully on a number of projects around the NYC area in a variety of applications. A consultation with Naturcycle staff is highly recommended to determine whether this unique product is appropriate for a particular application.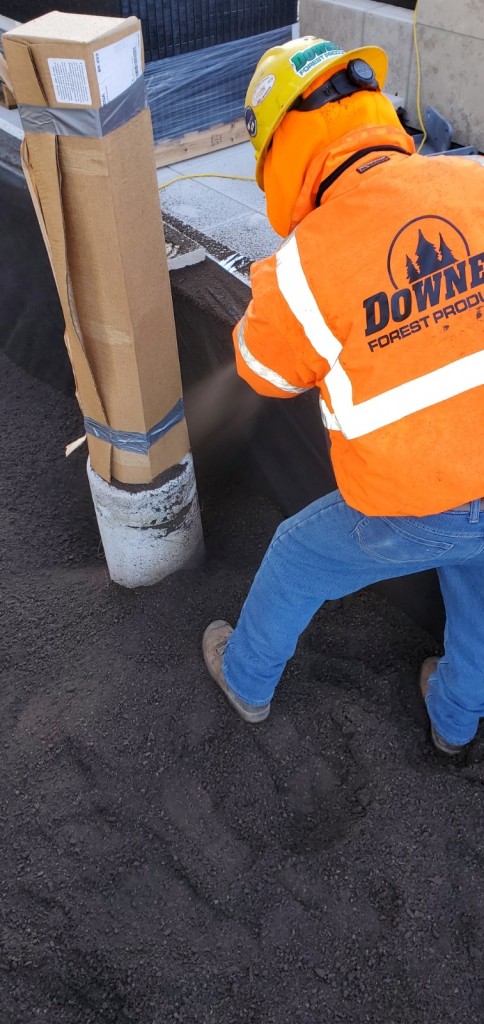 Pictured – Blowable Green Roof Media being installed in New Jersey